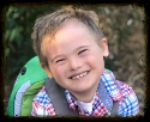 UDSF believes that the future is bright for your child with Down syndrome. Part of UDSF's mission is to provide education and support so that your child has every opportunity to reach his or her potential.  One area that concerns UDSF parents is sending their child with Down syndrome off to elementary school. UDSF invites you to attend its new program called Kindergarten Kickoff. This program will provide you with education, strategies, and support that will help you build a strong foundation for your child as they begin Kindergarten. Although this program is geared towards kindergarten, the topics covered in the classes will benefit parents of children with all types of special needs and all grades (K-6).  Register for the program today so you and your child can "Kickoff" the new school year with confidence and excitement instead of fear and trepidation.
Kindergarten Kickoff Curriculum
---
Through one time grants, UDSF was able to purchase the curriculum for this program from the Down Syndrome Guild of Greater Kansas City (DSG).  Modeled after DSG's program called Smart Start, the Kindergarten Kickoff program is a workshop that contains a series of four class sessions, held throughout the school year. During each session, the instructor will discuss the outlined topics, suggest helpful strategies, and assign participants homework that will help them implement what was learned in class at home.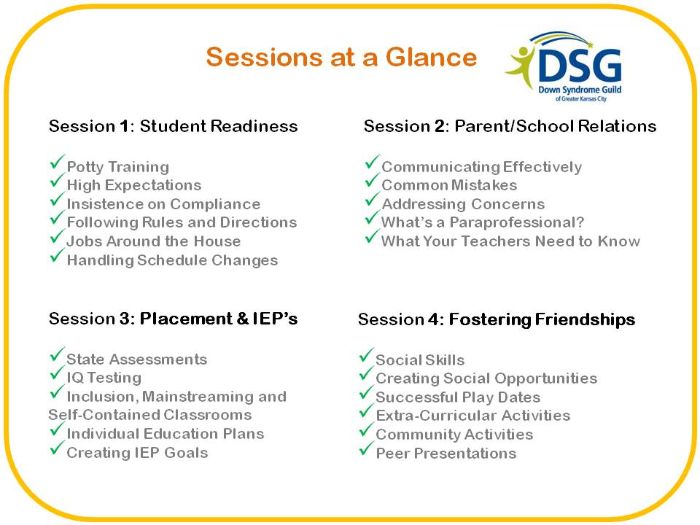 Meet our Instructors
---
Instructors for each of the Kindergarten Kickoff workshops were selected based on their credentials and qualifications. In addition, instructors were trained on the curriculum by a representative from The Down Syndrome Guild of Greater Kansas City.  UDSF, as a statewide foundation, is offering a workshop with inperson instructors in each major Utah county.  In addition, UDSF is also offering an online course to those community members who do not have access to the live workshops.  UDSF recommends attending a live workshop, where possible, in which you can learn from the instructor and each other.  Learn more about our instructors below:
Investing In Your Child's Future
---
UDSF is focused on long-term sustainability of its programs. The grants for this program where one time grants that covered the start-up costs of the program.  As a result, UDSF is charging a $70 fee to cover the costs of an entire workshop, which includes all four classes for up to two adults from the same household.  
*For the 2019-2020 school year only, UDSF is using additional grant money to offer the workshops at a below cost price of $40 per workshop ($10 per class) or if registering for individual class, $12.50 per class.  
Register for a Kindergarten Kickoff Workshop Near You
---
This program is for parents of children with Down syndrome ages 3-6. However, parents of children will all types of disabilities and grades K-6, as well as educators are welcome to join us. Click below to register.
When: Saturdays
9:00 AM to 11:00 AM

Dates:
Dec. 14th 2019
Feb. 15th 2020
March 7th 2020
April 25th 2020

Where: SpringHill Suites by Marriott/Online

635 South Riverwoods Parkway
Logan UT, 84321

Registration is open to all counties (this workshop is full for the 2019-2020 school year).

When: Mondays
7:30 PM - 9:30 PM

Dates:
Oct. 28th 2019
Nov. 18th 2019
Jan. 27th 2020
Feb. 24th 2020

When: Saturdays
10:30 AM - 12:30 PM

Dates:
Nov. 9th 2019
Jan. 25th 2020
March 7th 2020
April 25th 2020

Where: Utah Nonprofits Association
4900 South Highland Drive, Suite B
Salt Lake City, UT 84117

For the 2019-2020 school year, the Washington County Workshop has been combined with the Cache Valley session for a hybrid live and online workshop.