Hale Center Theatre Little Mermaid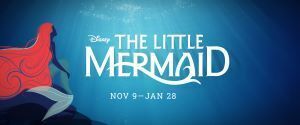 REGISTRATION IS CLOSED due to high numbers of registrations! Thank you for understanding!
Disney's Timeless Darling! Join us under the sea as only HCT can create! Ariel defies her father and leaves to be part of the glorious world above the sea. She finds her Prince and exciting new friends … but danger lurks! Beloved songs! … Under the Sea … Part of Your World … Kiss the Girl! Swim in an ocean of wonder with Sebastian and his colorful cohorts! Relish the music of eight-time Academy Award winner, Alan Menken, and Ashman, Slater and Wright. A treasured fable to capture your heart!
This performance of Disney's The Little Mermaid is SENSORY FRIENDLY ALTERED. For ages 3 and older. At the Sandy Hale Centre Theatre, Saturday, Dec. 3 at 9:00 am. Tickets are limited and only your child with Down syndrome and one parent can register. Registration is required and tickets will be given through a random drawing. As we receive the registrations, each one will be assigned a number and random numbers will be picked through an automated system until all the tickets are gone. You will be contacted a week before the performance if you are awarded tickets.