2021 is our year! Let's celebrate individuals rocking an extra 21st chromosome at the Mighty Steps for Down Syndrome Walk! The Mighty Steps Walk is the Utah Down Syndrome Foundation's annual fundraising event that brings our community together to walk for awareness, inclusion, and support of individuals with Down syndrome.

How to take Mighty Steps for Down Syndrome in 2021
---

STEP 1: Register for the Mighty Steps Walk
Create or join a team and walk with us at the in-person Mighty Steps Walk of your choice. Can't decide? Why Choose? Register for one walk and purchase a bounce-back ticket for another!
 St. George - "All Aboard," October 16, 2021, 9:00 - 11:00 am, Thunder Junction Park
8:30 am  Check in

9:00 am  Walk

10:00 am Lunch, splash pad, playground, & train ride!

10:45am  UDSF Group train ride & photo!
*State recommended COVID precautions will be followed at all of the walks: Social distancing, masks are strongly recommended for all, volunteers will be wearing masks, and sanitizing stations provided.
Tickets
Tickets include entrance into the Mighty Steps walk of choice. Food, games, crafts, activities, and entertainment. T-shirts are not provided this year. Teams are encouraged to design and order their custom Team T-shirts through UDSF's T-shirt campaign below.
Adult (18+) $17

Youth (3-17 yrs) $13

Individuals w/ Down syndrome Free

2 and younger Free 

Bounce-Back $5 (If you would like to attend more than one walk, purchase a Bounce-Back ticket)
REGISTER HERE
ALREADY REGISTERED? FIND YOUR TEAM'S PAGE
---
Looking for the link to your Team's Page? Click here and search for your team. Once you find your team, click VIEW, and go directly to your team page. The link will be in your browser, which should have your team name included in the link. You can copy and share this link. You can also click on the email, FB, and Twitter symbols at the top of your team page to share your page. Any questions, contact Kaydee at 801 554-7817.

Step 2: Design Your Team T-shirt 
Designing a team T-shirt is a fun and creative way to bring your family and friends together as a team and celebrate your loved one with Down syndrome. Be sure to order your T-shirts in time to wear to the Mighty Steps for Down Syndrome Walk. T-shirts are not included in your Walk Registration, you purchase them separately.  T-shirt campaigns run from June 1 - June 21, July 1- July 21, and August 1 - August 21, 2021, and September 1-21, 2021 (for St. George Walk).
FIND YOUR TEAM'S T-SHIRT (Can't find your team's shirt? Ask your team captain to create a campaign)

Step 3. Fundraise
UDSF couldn't do what it does without your support. You can help in three easy steps:
Step 1 - Create a fundraising page with your personal message, photos, and fundraising goal.

Step 2 - Share your page through email and social media to your friends and family.

Step 3 - Encourage teammates to share your page and help you reach your fundraising goal.
(When you create a team, you will also create your fundraising page. If you joined a team, you should receive your team's fundraising page to share. If you registered without a team but would like to be a fundraiser, click here.)
WHAT IMPACT WILL MY FUNDRAISING DOLLARS HAVE?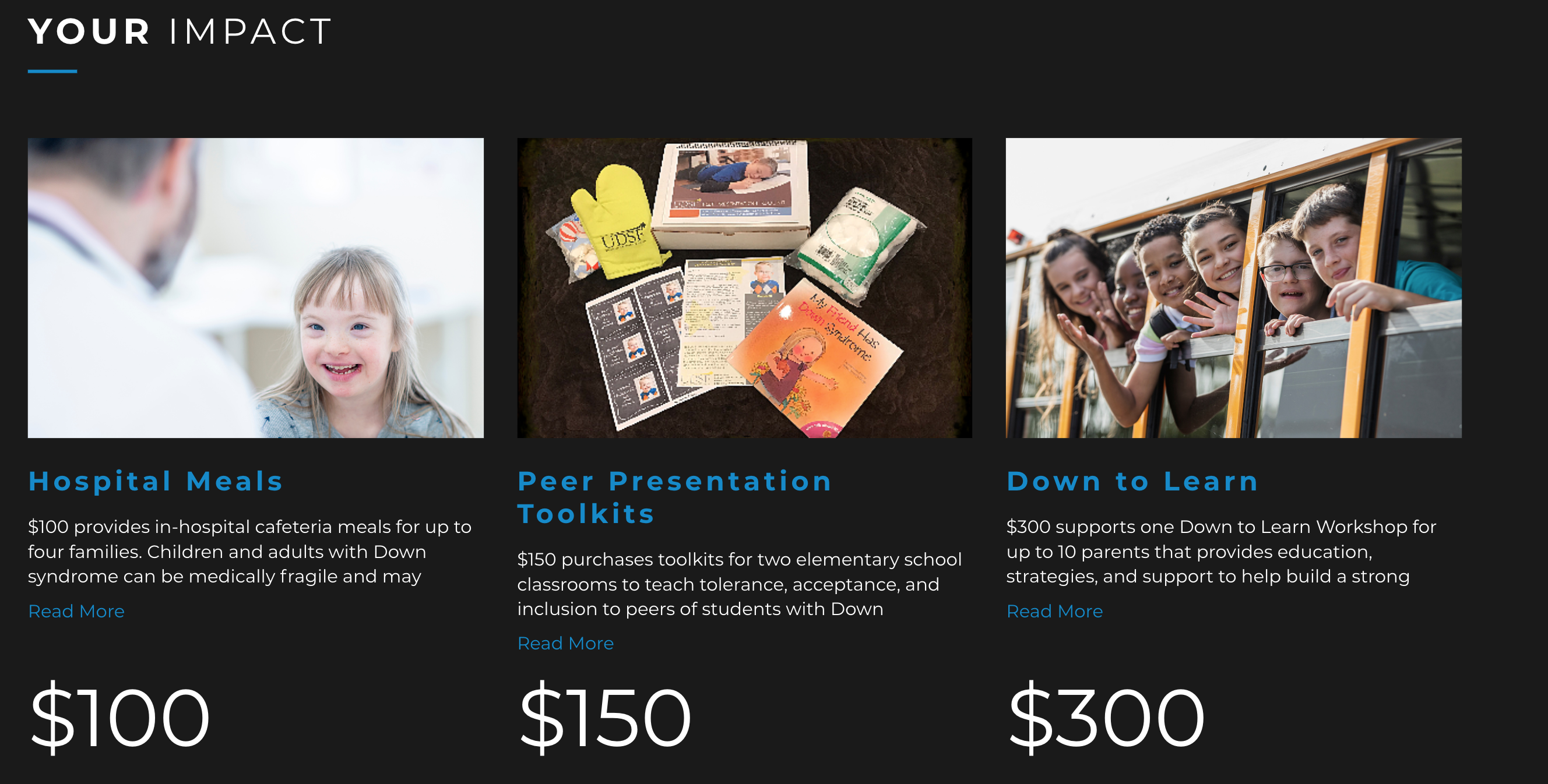 What Does A Mighty Steps Walk Look Like?
---
Join Our Mighty Step Sponsors Below
---
Sponsor the Walk
"The meaning of life is to find your gift. The purpose of life is to give it away." — William Shakespeare. 
The Utah Down Syndrome Foundation greatly appreciates and relies on the support of its sponsors to help us Love.Lift.Launch. individuals with Down syndrome and their families. Join UDSF in making a difference. Sign up to be a MIGHTY sponsor today!