For decades, the Utah Down Syndrome Foundation (UDSF) has held annual "Buddy Walks." In 2018, UDSF changed the name to "Mighty Steps for Down Syndrome."  The purpose of these walks is to promote advocacy and awareness of Down syndrome in Utah communities across the state.  Additionally, these walks are UDSF's annual fundraising campaign. 

---
Due to the uncertainty of COVID-19, UDSF's Mighty Steps for Down Syndrome Walk is looking different.  UDSF's 2020 walk will either be all virtual or a hybrid of virtual and in-person.  From June 1 through August 21, the Mighty Steps for Down Syndrome Walk will begin as an all virtual walk across Utah.  The purpose of the virtual walk is as it has always been, to advocate for individuals with Down syndrome, promote Ds awareness, and raise critical funds that support programs for individuals with Down syndrome and their families.  In addition to these purposes and to offset the negative impact COVID-19 is having on our community, the theme for this year's Mighty Steps Walk is
"Taking MIGHTY STEPS Across Utah for HOPE * HEALTH * HAPPINESS!"
As participants join teams for their loved ones with Down syndrome and help them walk across Utah, they are advocating for a healthier life.  As teammates from all over the world, walk-in their neighborhoods wearing their Mighty Step Bibs, they are spreading Down syndrome awareness.  As we are purposefully counting our steps, inviting others to join our teams, and raising funds for individuals with Down syndrome we are finding hope, health, and happiness!  In celebration, following the conclusion of the virtual Mighty Steps walk, participants will attend a "Victory Lap" of their choice, either virtual or in-person, depending upon COVID. 
July 27, 2020 Leaderboard
---
Total Amount Raised

Top Fundraiser

Biggest Team

Most Steps (Listed in order of most steps)
How the Virtual Walk Works
---
Step 2: Set Up A Walker Tracker Account to Track Your Steps

Step 3: Share the Link to Your Team's Page

Step 5: Celebrate at the Mighty "Victory Lap"
YOUR IMPACT:
---
UDSF does not receive government grants, but relies on your donations and fundraising dollars!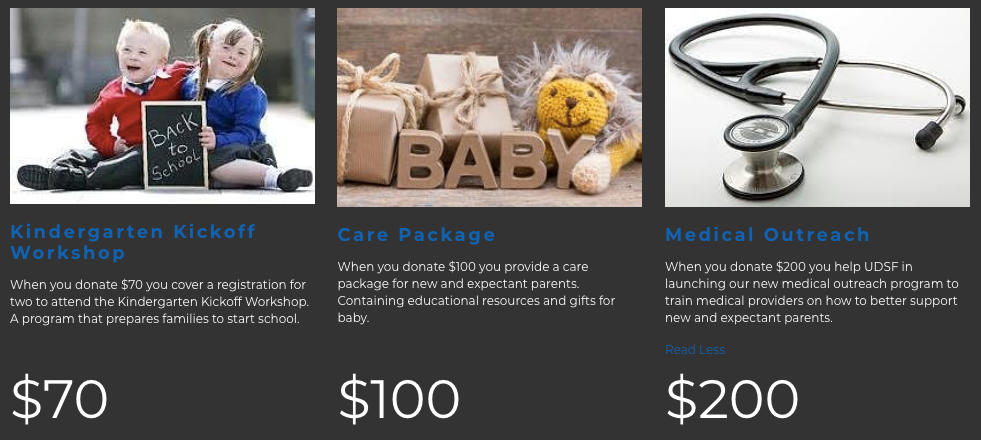 View Our 2020 Mighty Sponsors Below:
---