Find Outreach, Connection, and Hope
---

Are you in need of outreach, connection, and hope?  If so, UDSF's New Parent Outreach Program is for you.  This program welcomes new parents who have a child with Down syndrome into our community with a care package and quarterly educational breakfasts.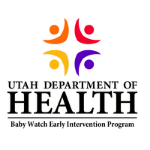 Early Intervention
---
Studies show early intervention for babies with Down syndrome helps improve cognition, gross motor, and fine motor skills in early childhood development, thereby helping to ready toddlers for their school years and everyday life.  The federal government requires all states to offer early intervention services to children with developmental delays.
Utah Baby Watch governs the early intervention programs in the state of Utah.  Supporting agencies provide in-home physical, occupational, and speech therapy as well as programs to improve overall cognitive development and various other family services.  Evaluations are free of charge, and children with Down syndrome automatically qualify to receive services for little or no monthly fee, depending on family income.
Early intervention agencies vary by school district or county and are provided beginning at birth and continuing through age three. School districts are responsible for providing services beginning with preschool and continuing until the child graduates from high school or ages out of the system at 22.  A list of all early intervention agencies in the state of Utah can be found at www.utahbabywatch.org.
How Early Intervention Works
---
Finding a Peditrician
---
Finding a good health care professional that you trust and that can help you navigate the health care needs of your child with Down syndrome is important.  Typically, physicians don't specialize in Down syndrome, although some physicians have more experience with treating individuals with Down syndrome than others.  In Utah, parents generally find a good pediatrician who follows the health care guidelines recommended by the American Academy of Pediatrics (see below).  The Utah Down Syndrome Foundation's policy is not to endorse specific physicians. Instead, we invite you to become a member of our closed Facebook page, Utah Down Syndrome Foundation, and ask our UDSF community which physicians they recommend in your area (UDSF Facebook Page).
Health Care - Birth to 5 Years
---

Health Care Information for Families of Children with Down Syndrome: Birth to 5 Years
"Health Care Information for Families of Children with Down Syndrome" was created in July 2013 by the American Academy of Pediatrics (AAP) to give parents and families information about the special health care needs for children with Down syndrome. This document should be used together with the care given by your child's doctor.  The complete clinical report as well as the growth charts for Down syndrome are available on the National Down Syndrome Congress website under the "Basics of Proper Health Care" tab.
Checklists to share with your physician (downloadable from the National Down Syndrome Congress website):
Facebook Groups for Ds
---

Looking for local information, support, and connection?  Join UDSF's Facebook group "Utah Down Syndrome Foundation" where you can ask questions, learn from other's experiences, and find the necessary resources for Down syndrome near you.  In addition to UDSF's Facebook page, many parents join the Down Syndrome Diagnosis Network's Facebook communities.  These communities are not located in Utah, but they are online communities that are specific to your child's age.  Many parents in the UDSF community find both UDSF's and DSDN's Facebook pages helpful in navigating Down syndrome.