Peer Presentation Tool Kit
---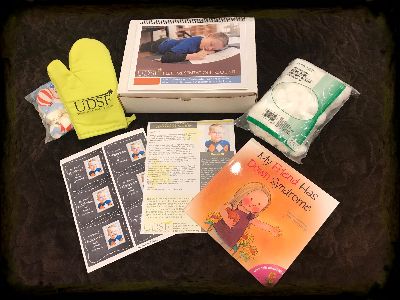 Peer Presentation Tool Kit
The Utah Down Syndrome Foundation is proud to offer a Peer Presentation Tool Kit for Utah parents and/or school teachers.  This tool kit helps promote tolerance, acceptance, and inclusion in any social setting where children with Down syndrome are present.  Here is what you'll get:
Booklet

A booklet with 18 ideas/activities to teach Down syndrome, acceptance, tolerance and inclusion

Child's Book

A children's book titled "My Friend Has Down Syndrome"

Oven Mitt

An oven mitt to help demonstrate fine motor challenges in children with Down syndrome

Cotton Balls

A bag of cotton balls to demonstrate hearing loss in some children with Down syndrome

Personalized Stickers

Personalized stickers for classmates and peers to wear on the day of the presentation

Take-Home Letters

Personalized take-home letters for parents of peers

Personalized Bio

What you will need to supply

A bag of marshmallows to demonstrate speech difficulties for children with Down syndrome
Tool Kit Video
---
In addition, UDSF has produced the following animated video titled "Down Syndrome 101" that should be used as part of the peer presentation.  This five minute video presents basic facts about Down syndrome and how it affects children with the diagnosis. It can be accessed here or found on YouTube under "Down Syndrome 101 UDSF."